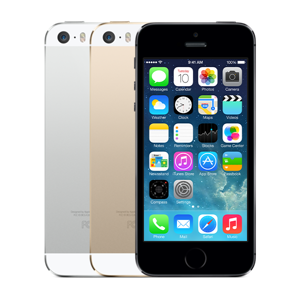 Apple introduced iPhone 5S, the successor to iPhone 5 alongside a low-cost iPhone model, the iPhone 5C at its headquarters in Cupertino, Calif. on Tuesday,in the grand tradition of the iPhone 3GS and iPhone 4S, iPhone 5S t offers subtle, almost imperceptible changes on the surface, and a complete transplant underneath.
iPhone 5s  runs an all new A7 chip,the new chip reportedly makes the iPhone 5S five times faster than the iPhone 5, it is based on  64-bit desktop-class architecture(all previous models ran at 32 bits), it comes with an all new 8 megapixel camera with True Tone flash and carries iOS 7. The iPhone 5S introduces a CoreMotion API for developers — consolidating sensor data from the accelerometer, gyroscope and compass — powered by a co-processor called the M7.
iPhone 5S carries a fingerprint sensor in the home button, which enables a feature called TouchID. The iPhone 5S scans the fingertip of the person pressing the button, eliminating the need for a lock code. TouchID also means the end of the repeated ritual of entering your Apple ID password every time you download a new app.
The iPhone 5S, which comes in gold, silver or 'space grey', will cost £549 for the 16GB model, £629 for the 32GB model and £709 for the 64GB model.
There are some smart phones that will have better features than others. The same can be said for the gaming side of your mobile phone. Of course, as much as a lot of us don't want to admit it, the iPhone is one of the best phones for most things, and for gaming it carries on its exceptional reputation. You could give it a go and find the best mobile casinos online at MobileCasino.mobi. As long as you have a Internet connection, you should be able to enjoy your free time playing some of the most popular casino games.