Disqus is a third party commenting system, used on a lot of popular blogs including TechCrunch, ITProPortal and of course Sporkings!
The idea is that no matter what website you comment on, you get to use the same login details. This is an OpenID approach to commenting, that has been very successful. But with the launch of Echo last month, it seems Disqus felt the need to up their game a little.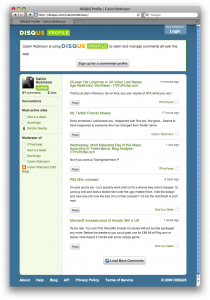 One of the better features is the improve comment management system. Now by visiting your disqus profile page, you can view all the comments you've left throughout the different websites you frequent, and use one of the quick-links to jump to your favourite blogs. The new 'Profiles' provide a feeling of control over your web presence. If at any point you wish to dissasociate yourself with a blog or your comment on a blog, you can delete it – this will cause the comment to become annonymous. Disqus will also discover any comments you left by signing in with your Twitter/Facebook details, and integrate them into the Profile page.
Another exciting feature is the live-updating comment feed. You can now watch comments appearing as they're posted, keeping the conversation current. This is the feature that gave Echo all the hype last month.
So it seems Disqus have matched Echo feature-wise, and then some. Probably the best part of this update for websites like ours, is that it only take the switch of a theme on the Disqus panel. No updating files via FTP/SSH or any of that nonsense, just the simple switch of a button. Nice.