Everyone needs at least one game installed on their device for those moments of the day which just seem to drag on and on. Sometimes a complex storyline and wealth of customization options is not quite what you're looking for. Instead, you might prefer a game in which you can quickly dive into, with enough memory boosting puzzles and critical thinking exercises to keep you concentrated and alert. Here are some suggestions for different brain teasers you can easily download – most of which are compatible with both Android and iOS…
Logic Games
If you've got a flair for riddles – or want to develop one – then What Am I? is a great app that gets your brain clogs moving. Another app, comprehensively titled Brain Teasers, Logic, Riddles has compiled numerous tricky questions that are used in competitive university and job interviews across the world. This one's definitely for people who like to think outside the box…
Puzzle Games
Test your comprehension of the relationship between shapes and space in the immensely popular physics puzzle game Brain it On. A more easy-going game is Flow Free, where you must connect colour pipes without having any of the pipes cross each other. For an alternative type of puzzle, make connections between four images to find a common word that ties the images together in What's the Word.
Quiz Games
Brush up on some interesting trivia with a quiz game. When you're not answering correctly or making educated guesses as to the answers then you're at least learning new facts. Choose a quiz app that lets you specialize in certain subjects (such as QuizUp or Trivia Crack) if you want your knowledge tested on one particular topic, or go for a well-rounded general knowledge quiz. One of the best general knowledge quizzes includes Quizoid, which also lets users submit their own questions for approval.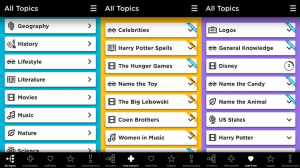 Number Games
The success of 2048 popularized number-based puzzle games just like sudoku had done a couple of decades earlier. 2048 isn't the only fantastic number puzzle app you should be playing, however. Try 2Vars or Quento for a game that is sure to challenge your maths ability. Spending 15 minutes solving mathematical problems each day can help increase your IQ and general cognitive abilities – best of all is that these games make it fun!
Word Games
Scrabble is just one of many engaging games with which to test your vocabulary skills. WordBrain is one of the most popular word-based apps, in which you must uncover as many different words as possible from a set number of letter blocks. The game 7 Little Words, on the other hand, is more like a crossword in how it gives you lettered blocks and clues which help you arrange said blocks in order to form the word that corresponds to the clue. Next, test your internal thesaurus with Word to Word – a synonym game.
Strategy Games
Get a power kick out of world domination with a mobile adaption of the classic game Risk. Alternatively, try out Plague Inc – an exciting game whereby your goal is to evolve and spread a disease that will wipe out mankind. Yes, it sounds pretty morbid – but the game will make you make you strategically consider factors relating to human biology and disease control. Other strategy games include chess (of course), and even poker. Refine your poker strategy with games like Appeak whereby you can practise Texas Hold'Em without ever having to bet with real cash.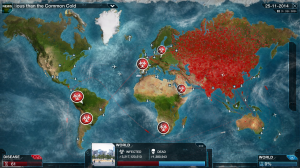 Mystery Games
The Room immerses you in a 3D world where your objective is to solve cryptic puzzles. Similar apps include the escape game Forever Lost in which players must make their way out of the eerie places they find themselves locked or trapped within. Can You Escape is founded upon a similar escape concept, but less creepy and less heavy on graphics. For a nostalgia feel, stick with the classic 'whodunnit' in an app version of Cluedo.
If you're looking to keep your mind occupied during mind-numbing daily occurrences, such as standing in line at the bank, or on the train commute home from work, then a straightforward but sufficiently distracting game, such as those above, should do the trick!