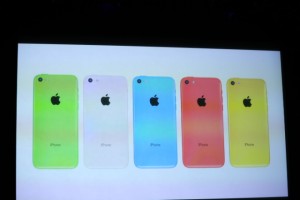 After weeks of rumor and speculation Apple has unveiled the low-cost iPhone 5C at a event in Cupertino, California on Tuesday, the iPhone 5C is made of soft silicon rubber rather than anodized aluminum and comes in the five different colors –  blue, green, yellow, pink and white.
"The iPhone 5C has an incredible new design, one that's more fun and colorful than any design we've done before. A few of you might have seen it around the web " said Apple's Phil Schiller introducing the phone and acknowledging the badly kept secret of the phone launch.
"The entire back and sides are made from a single part, its front one glass, multi-touch surface. As close as you look, you wont see joints or seams" added Schiller. Jony Ive says the "iPhone 5c is beautifully, unapologetically plastic."
Apple's  iPhone 5c carries the 4-inch Retina display, and A6 processor with the same 8-megapixel rear camera and  improved front FaceTime HD camera with support for "more LTE bands that any other smartphone in the world," according to Apple.
Apple is touting the iPhone 5C as an introductory phone for many users, and the device will come with a variety of cases for $29 each. The iPhone 5C will sell for   £469 for the 16GB model and £549 for the 32GB model. Pre-orders start on Sept. 13 and the iPhone 5C will go on sale on Sept. 20 in the United States, China, Australia, Canada, France, Germany, Japan, Singapore and the United Kingdom.