Whether you're an executive travelling on business, or a gamer flying to a convention, you're going to want to do so in style, and with as many gadgets crammed into your hand luggage as possible. On our recent flight to E3 that was certainly the case. Here's a round-up of the bags and cases we found essential to the journey.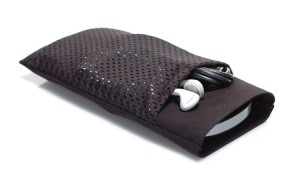 We previously reviewed a PS Vita case from Waterfield that would do the job nicely, but this time we were looking for something a little more lightweight. We found a slimmer case that wouldn't bulge our pockets on the show floor, but would still protect the Vita's screen while in our bags. The PS Vita Suede Jacket is a steal at only $15.00. The stretch pocket on the rear holds the cables, while the suede lining protects the Vita without really adding any bulk or weight to the device.
The key of course to any long haul flight is the hand luggage. You need something large enough to hold your laptop and any important devices you wouldn't trust to check-in with your main luggage, but it needs to be flexible enough to squeeze into the overhead locker, and yet remain accessible to get to items on the go. Hand luggage is arguably your most valuable asset while travelling. It's for that reason we packed our gadgets into the Wallace Duffle from Knomo.
Now, technically the Wallace Duggle is a Weekender Bag, but at 23 x 48 x 22 cm it's the perfect size for the overhead compartment of an aeroplane, and can even fit in the space underneath the seat in front of you, depending on how much you have packed into it.
Aesthetically it's a gorgeous bag. It certainly looks designer, and has a feel of quality you'd expect from a Knomo product. With a real leather exterior, available in brown or black, and a soft interior that won't be too rough on your products.
The greatest feature about using the Wallace as a carry-on, is that there's a compartment at the rear which slots over the handles of a regular suit case, so the bag won't fall off when you're wheeling all of your luggage around. Frankly, this is quite genius.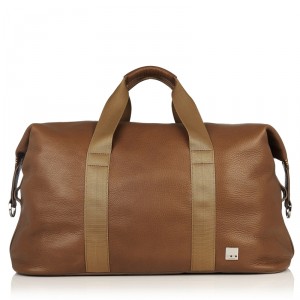 The Wallace is a roomy carry-all duffle bag in sumptuous full-grain leather. Ideal for overnight stays, weekends away or gym gear, the Wallace will never go out of style. The leather is soft, supple and luxurious and will mould to your shape if worn on the shoulder or cross-body.
-Spacious interior: clothes, gym gear etc. fit easily inside
-Carry 2 ways: via short carry handles or detachable, adjustable shoulder strap
-Fastens with top-zip for security
-Softly padded sides cushion your belongings
-Popper-side tabs design feature for ease of access into bag
-Internally, fabric pockets can hold your mobile, keys or iPod
-Double-zip back pocket: unzip top and stow camera/passport, unzip base also and it becomes a slip pocket for placing over trolley handle
-Unique 'If Lost' ID number to help reunite you with your knomo
The Wallace is available for around £236.00.
—
If your carry-on gear is too heavy for a duffle, you'll probably be looking for more of a wheeled trolly solution. The Marseille Carry-On, also from Knomo, is ideal for that situation, but we found it even more useful on the occasions when you're travelling light, without the need of a big suitcase. The Marseille does the job just fine, with pockets for toiletries, handheld gaming consoles, and straps to contain your clothes in the main compartment. The front pouch is padded especially for laptops of 15″ or less.
The Marseille will also fit in the carry-on lockers on planes, so you'll have the added benefit of  not having to check-in luggage, making for a faster journey.
Of course it goes without saying, all of Knomo's products come fitted with a unique ID code, which when registered can be tied directly to the owner in the case of a lost/found situation. It's just another step of protection that could potentially reunite you with your bag, and more importantly your beloved possessions, should it ever get misplaced.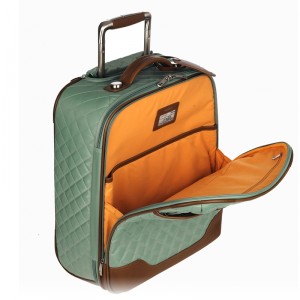 The Marseille is maximum-size for carry-on luggage, in accordance with most airlines regulations. The Marseille holds a laptop in an easy-access section, while still leaving plenty of room inside for your carry-on essentials. The quilted exterior is smart but practical too, cushioning your belongings within.
-Holds up to a 15" laptop within its quilted laptop protection pouch with shockproof protection
-Smooth-running wheels and a telescopic handle for easy manoeuvre
-Internal pouches and zipped pockets for key items
-Detachable wet pouch for toiletries, with a plastic bottle included
-External large zip pocket at front: ideal for travel documents or keeping your phone handy in the slip pouch within
-Unique 'If Lost' ID number stitched inside to help reunite you with your knomo
The Marseille is currently on sale, down from £235.00 to £164.50.
As always, we recommend you shop around if your needs differ from those we talked about in this article. But if you're looking for a solution that can handle all of your geeky electrictronics, while looking all executive, we feel we've found some great products above. Knomo really should add that to their tagline, because from our experience their products are ideal for geeks, and look as stylish as hell.