You know what they say, it's good to do something outside of your comfort zone. There's not much further from our comfort zone than umbrellas! But the senz° automatic is something so peculiar and technologically advanced in comparison to your normal, everyday umbrella, that we just had to take a look.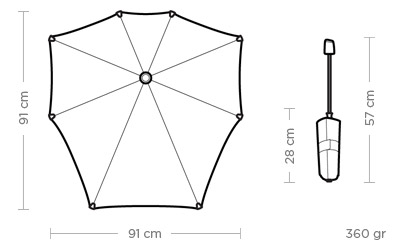 Straight off the bat you're made aware of the interesting dynamics, with the kite-like shape of the umbrella. Offering a larger dry-coverage area is just one side-effect of the original shape, the main purpose however is the wind-proof system.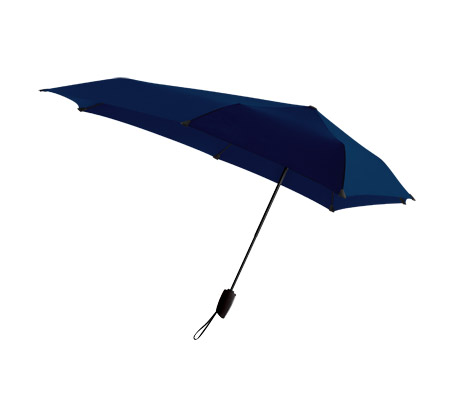 Designed specifically to solve the problem of umbrellas turning inside-out in strong winds, the first and most important design element of all of senz's umbrellas is that they're wind proof. We put the 'automatic' to the test, and frankly we don't think you'll find a stronger umbrella anywhere on the market, these things don't even shudder at the sight of a gale force wind.
There are of course a number of patterns and aesthetic designs to chose from, but that's simply down to personal preference.
The original and xl senz umbrellas can stand winds of up to 100 km/h. The smaller ones are a little less, with the 'smart s' coping with winds of up to 60 km/h and the medium sized smart and automatic being protected for up to 80 km/h. That's 50 miles per hour! Meaning you could hold the umbrella out of the sunroof of your car, while driving down a main road and it still won't fold in on itself. Quite impressive, although we don't recommend you do that!
We went with the 'automatic' option, as this model opens and closes at the touch of a button. No fiddling around trying to pull spokes together, or anything like that. The only slight disappointment we found, was that the umbrella still needed pushing down once folded, to make it compact again. This compression had to happen, before you could push the button to open the spokes again.
All Senz umbrellas come with a 2 year storm warranty, so they're really confident about that high wind protection. The larger models also come with UPF50+ UV coating.
They're not as high-tech as most things we review, but the senz umbrellas still really impressed us, and we cannot recommend them highly enough, if you're on the look out for a reliable umbrella. There's nothing worse than opening a fancy new umbrella for it to implode due to the miserable British weather – senz offer an affordable way of staying dry without risking being embarrassed on the high street.