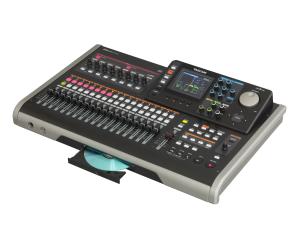 Options for musicians are plentiful, these days. Once upon a time, you either booked into a studio, or you recorded onto a dodgy 4-track cassette-based recording device. Or hell, if you were really struggling, you would just use a simple, honest to goodness dictaphone, and pray nobody accidentally recorded over your potential masterpiece idea.
But now? Well, you can record straight onto a computer, toy around with after-effects, vocal correction – Christ, you barely need talent at all, half the time. Not so, with specific recording devices, though. Enter stage right: The Tascam Digital Portastudio DP-24.
What this device amounts to, really, is in the name: it's a portable recording studio. With a healthy 24 tracks that are recordable (and you can mix those down to a single track, creating another 23 if you really need to), the DP-24 is superb whether you're a solo artist wanting to put down high-quality demos (or Internet-ready recordings), or a full band trying to lay down some ideas, as it allows simultaneous recording from up to 8 channels.
It's a device that is both hugely complex, and deceptively simple – if such a thing is possible. At a very basic level, you can plug an instrument (or microphone) into the jacks at the back (it allows both XLR and TRS), tell the DP-24 what channels to record onto, hit record (to a click track if you want) and then play with the results.
After an initial setup that is incredibly easy, you can do pretty much anything you'd ever want or need to, with your recorded music. Want to edit on a PC? Simple, remove the SD card and throw it into your PC (or even just connect via the USB out cable, supplied), then you can edit the recordings using your own preferred software. Want to burn directly to a CD? No worries, there's a disc-tray included as part of the unit. It may seem archaic to even consider using CD-Rs these days, but it presents yet further uses of the device: perhaps you're a gigging musician or band? You can easily have a mixing desk output go straight into the DP-24, have someone mix down and with a bit of skill, you're selling a performance CD of a gig you've just performed. If you want, and your setup doesn't require more than 8 inputs, you can even play through the device, with the output going to a PA system. The options are plentiful.
Back to recording, though, it's good to find that there are post-processing effects in abundance, allowing you to record a clean guitar channel, then play with the sound afterwards. It may sound basic, but for certain styles of music, this is excellent. Of course, if you want to throw a distorted guitar into the mix, you'll be better suited with a dedicated pedal. The on-board effects are decent (particularly the reverb and delay ones) but I found better controlled was afforded when using a dedicated distortion, chorus, or flanger pedal, over the built in options.
It's not perfect, of course, and there are slight omissions. It would have been nice to have individual EQ for each input channel, and if we're being super nit-picky, for the price, it wouldn't have been a bad idea to include some form of basic drum machine. Editing on the device isn't that easy, either, and with tablet devices offering touch-screen input, perhaps moving in that direction might be a good idea for Tascam, too. But there's just so much you can do with the DP-24, that, having experimented throughout the review process, the likes of Garageband (for example) can't quite compete with in terms of ease-of-use.
VERDICT: The DP-24 is a fantastic bit of kit, but one that comes with a hefty price. If you're a musician that likes to record at your leisure, without the pressures of studio time costing by the hour, this is a great solution. The multiple ways of recording and clever way of recording each track to an individual file means that you can edit wherever you want, if you find the slightly cumbersome UI a problem. It's expensive, but I sure wish this kind of thing was readily available when I was a youngster.
Of course there are options nowadays in the computer market, and a good Apple laptop with accessories will allow for a lot of the things the DP-24 does. But for a stress-free, simple approach to recording music on the go, you'd be hard pressed to find something more musician-friendly. It doesn't want you to learn an operating system, or a whole new way of doing anything – instead, within a few pages of the manual you'll be able to plug a guitar and microphone in, and start recording – and sometimes, that's exactly what you want. Highly recommended.
For a full list of specifications, visit this page.