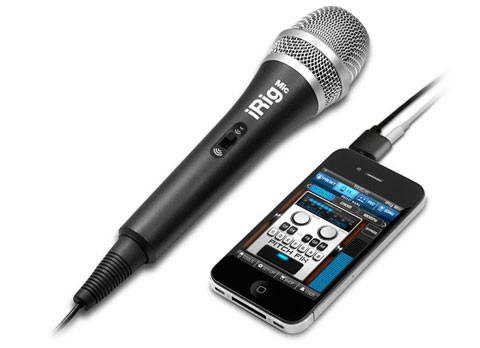 The iRig Mic from IK Multimedia is an external hand-held microphone accessory, specifically designed for mobile phones and tablets.
Compatible with Android and iOS devices, the iRig Mic can be used for recording professional sounding audio on-the-go. It's portable (and comes with a handle little case), which makes this microphone ideal for many situations, such as journalists conducting interviews, or travelling singers / musicians, without needing to carry around an expensive setup.
There's one simple button on the microphone itself, which sets the gain level of the audio input, between low, medium and high. The rest of the controls are operated on the software itself, should you chose to use it. The iRic Mic actually works perfectly well with default sound recording apps that come pre-installed on most Apple and Android smart-devices. The iRig Recorder, VolcalLife and AmpliTube apps are all provide free from IK Multimedia, and all present different features, from vocal processing to real-time audio effects such as choir harmonizer, pitch-correction and vocal doubler. Depending on your use, they may or may not be relevant for you, but they're worth checking out none the less. We found the simple 'iRig Recorder' app suitable for our audio interviews. Most third party applications are also supported by this device, including Skype, Tune Me, the Booth Rap Studio and Voice Pro.
You can see (or more importantly hear) the iRig being used in our E3 video coverage over at GodisaGeek.com.

The fixed cable is a nice 2 meters in length means you can keep your smartphone in your pocket or a bag, and still have plenty of slack to maneuver the microphone. At the end of the cable is a splitter jack, allowing you to plug your headphones into the device, for real-time audio monitoring. This is especially useful, because of course most smart devices only have one audio jack. The iRic Mic provides the second.
We found the iRig Mic to be an invaluable piece of equipment in our travelling setup, due to it's lightweight portable form, with absolute crisp audio quality. It certainly comes with a Sporkings seal of approval.
Features:
Ideal for all vocal applications from singing to speech
Great for all types of sound recording or processing in music or any other audio application
Quality condenser-electret unidirectional capsule
Dual mini-jack connector allows real-time monitoring on headphones, speakers, mixers, PAs
Rugged, durable metal housing
Easy to set-up for any sound source
Can be handheld or placed on a standard mic stand
Comes with apps for singers and songwriters
Works with your (other) favorite audio apps
Coming in at only €49.99 the iRic Mic is extremely affordable.