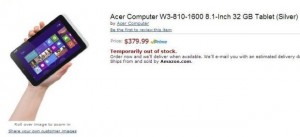 Microsoft's tablets currently have a  minimum 10 inch display, smaller devices running Microsoft OS were on the cards with  Microsoft making changes to the resolution requirements which would have enabled hardware manufacturers to put Windows 8 mobile OS on smaller 7-inch tablets. Details of the first 8-inch Windows 8 tablet have leaked, after Amazon.com by mistake published a listing for a new Acer Iconia W3-810 device.
The device was first spotted by PC World's Brad Chacos . based on the specification on the Amazon , the tablet will have a 1280×800 touchscreen at 8.1 inches, it's the same resolution and roughly the same size as Google's Nexus 7 and Amazon's Kindle Fire.
The listed price is US $ 379.99, the only connectivity feature listed is 802.11b/g/n – no mention of Bluetooth. There's a rear webcam with a decent 2-megapixels, and the entire unit measures in at 8.62 x 5.31 x 0.45-inches with a weight of 1.1-pounds. The color for the device is silver – it is possible there could be other color options, but only time will tell.