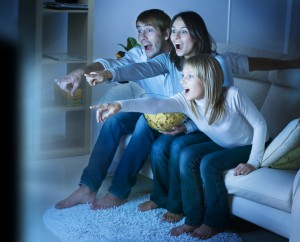 Just as families still get together to watch favourite television programmes and films, so the advent of more sophisticated technology has generated lots of new devices, machines and gadgets that families and individuals can experience and enjoy. Here are a few of the most popular to entertain and treat you and your family.
Gaming machines
One of the great things about the Wii in family terms is that it can take over the living room and everyone can join in. Some of the games engage adults and children in active exercise – Outdoor Challenge, for example, comes with a floor mat and will keep everybody fit and healthy. Other Wii favourites include Yahtzee, Battleship, Connect Four and Boggle. Playing Wii Sports boxing means you can all punch each other about with no resulting bruises, or for a sci-fi equivalent, try Star Wars: The Clone Wars – Lightsaber Duels.
Tablets
 Although there are many brands of tablet on the market, many commentators still favour the iPad as being the best. Options for you and your kids include some of the most well-known apps, such as Angry Birds, and you can also play "traditional" games such as Scrabble. Younger children will love the multiplayer Bubble Popper, and perhaps one or two adults will as well.
Refreshment breaks
Whether you've been jumping about the living room with the Wii or zapping a few cross animated flying creatures, there comes a time when we all need a break. Now the kids can activate their slush and shake making machine to make a customised, frozen drink while you and the other adults turn to the Tassimo for your favourite cup of coffee or tea. Of course, you could also use the coffee machine to treat the kids to a delicious hot chocolate if it's too cold for a freezing slushy drink. You could complete that fun family experience by using a home popcorn or candyfloss maker.
Smart gadgets
Just like the exercise games on the Wii, smart watches are functional as well as fun. Designed for children, as well as telling the time, the Kidizoom records sounds and videos and takes photos, which can be uploaded and edited – so keep the iPad handy. Your kids will love the funny sound effects that can be applied to voice recordings.
As for the teenagers and grown-ups, there are deluxe selfie sticks to help you take a family photo, and gamer kits with an educational value – they teach you how to build your own games console, a perfect project for parent-child collaboration.
 Tech for treats
 Family life today can be hectic and, initially, early tech developments tended to isolate individuals, adults and teenagers especially, as they focused on using mobile phones instead of communicating person to person or listening to music on iPods instead of communally. As technology has moved on, however, social media and newer developments have improved opportunities for family and communal involvement – via the Skype app, for example, you can talk to and see family members thousands of miles away. Treat yourself and your family and enjoy the tech revolution.