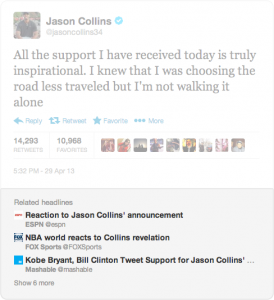 Twitter introduced "related headlines" feature on Monday to add context to  posts that might otherwise be difficult to understand. Clicking through to a tweet's permalink page will feature articles and websites that have embedded it.
Twitter demonstrated the feature, the tweet from NBA player Jason Collins regarding his decision to' come out' was embedded in articles on ESPN, FOX Sports and other sites.
"Starting today, you will see a new "Related headlines" section on the permalink page of Tweets that have been embedded on websites. It lists and links to websites where the Tweet was embedded, making it easier to discover stories that provide more context." announced Twitter's blog.