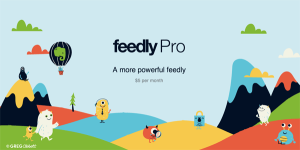 Feedly, the popular alternate to Google reader is a top choice for people looking for Google Reader replacement, the  off its premium service. Today, the company launched Feedly Pro, with a limited time  premium lifetime RSS service which was priced at $99.99 sold out within the first few hours.
"The funds from this early edition are going to help us acquire the hardware needed to open feedly pro to everyone. More on this in a couple of weeks. Thank you for your patience…
Feedly pro sends a clear message that you are the customer and not the product: We are excited to have a business model centered around customer satisfaction and we are going to do everything we can to make sure that both standard and pro users are happy." said Feedly CEO, Edwin Khodabakchian.
For those who missed the limited subscription, Feedly will be offering a monthly rate of $5 for premium service for a total of $45 per year. The pro version comes with safer Feedly browsing, article searches, Evernote integration, and better customer support. Do you think this is too expensive? Let us know in the comments.