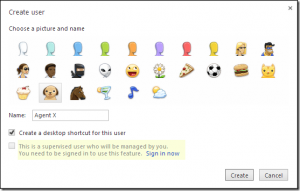 Google is planning to add restricted accounts for Google Chrome browser, which should be useful for parents looking to limit their kids' internet usage according to BrowserFame who spotted a feature in the development version of Chrome that would allow for 'supervised user' accounts.
'Chrome team is currently working on the UI, backend and flow. Interested users can preview these by enabling the experiments "Enable supervised users" and "Enable new profile management system" from the chrome:flags page in the canary build.' adds the post.
Limited account feature will be quite useful in Chromebooks, but less so on regular computers unless Google also changes the way users can switch between accounts.