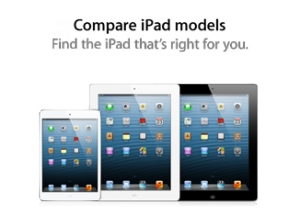 Apple is testing larger display sizes potential future models for both the iPad and the iPhone according to a report from Wall Street Journal which quotes unnamed sources.
"In recent months, Apple has asked for prototype smartphone screens larger than 4 inches and has also asked for screen designs for a new tablet device measuring slightly less than 13 inches diagonally." quotes the article.
The current models have smaller screens. The iPhone has a 4-inch display, whereas the iPad has a 9.7-inch display and the  iPad mini comes with a 7.9-inch display. Most of the other phone manufacturers including Apple's fieriest rival Samsung has phones with a 5-inch or larger display.