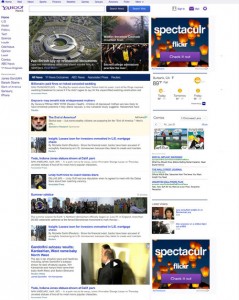 Yahoo gave Yahoo News a new look on Thursday which it believes is  "more personal, intuitive and modern design." The new face lift includes a news stream that's customizable to the user's interests.
"The first thing that you'll notice about the new Yahoo News is that it was designed around your interests and preferences. We made the news stream customizable so you can tell us what content you'd like to see more of. Yahoo! News will get smarter over time — the more you use it when signed in with your Yahoo! ID, the more it learns about your preferences, creating a personal news hub just for you. And the new News is super-fast, articles now load faster than before". Mike Kerns, Yahoo vice president of product, said in a blog post.
CNet highlights what's different with Yahoo News:
Streamlined new site — Redesigned site that puts the news users care about front and center, and provides a more modern, intuitive and personalized experience, consistent with the new Yahoo.com.
Easy navigation — Easier navigation to premium content like Yahoo News exclusives from Yahoo's editorial team and content from its partner, ABC News.
Content stream — Yahoo's intelligent content stream is now available on the new Yahoo! News.
Cross screen — An improved design when users visit Yahoo News on iOS devices. Coming soon to Android devices.
Fast — Articles now load faster than before.
Personalized — A personalized experience that gets smarter the more a person uses Yahoo.