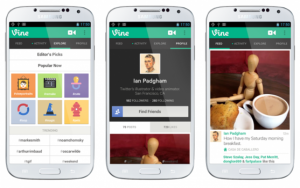 Twitter launched Vine for Android on Monday,  the Android version of it's popular video capturing and sharing service via Google Play.
Vine app for iOS has been available since January with about 13 million active users soon after Twitter purchased it. The Android version does not have al lthe goodies of it's iOS counterpart.
"Though we've been very focused on releasing Vine for Android, we've continued to release updates and add new features to the iOS app. As a result, the two apps are not perfectly in sync ." admitted Twitter on a blog post.
The features available include "easy video creation with automatic playback and sound; Explore, where you can discover popular posts and see what's trending; and Find Friends, where you can find and invite people you know to join. You can also share your posts to Twitter – people will be able to watch them right within your Tweet."
HTC One and Samsung Galaxy S4 however get a Zoom feature in their Android app, which is currently only available on Android.