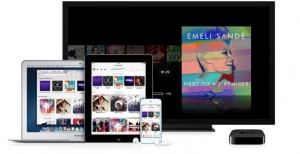 Apple as was widely expected took the curtains off it's rumoured iRadio service named  iTunes Radio (not iRadio), an Internet radio service carrying over 200 stations and a catalog of music from the iTunes Store, combined with  iTunes functionality, and Siri integration.
iTunes Radio is available on iPhone, iPad, iPod touch, Mac, Windows PC and Apple TV. iTunes Radio listeners get access to stations inspired by the music they already listen to, as well as "Featured Stations" curated by Apple.
"iTunes Radio is an incredible way to listen to personalized radio stations which have been created just for you," said Eddy Cue, Apple's senior vice president of Internet Software and Services. "It's the music you love most and the music you're going to love, and you can easily buy it from the iTunes Store with just one click."
Apple gives out further details about the app "Coming this fall, iTunes Radio will offer you an incredibly personalized experience on day one based on your listening history and past purchases from iTunes. In addition, if you're listening to a song you like from iTunes Radio or your music library you will be able to have a station built around those. It's easy to create and customize stations based on whatever you want to hear. Search for artists, songs, or genres, and iTunes Radio will instantly build a station around your choice.
Let Siri make your listening experience even more fun. Ask Siri "Who plays that song?" or "Play more like this" and Siri will make it happen. Say something like "Play Jazz Radio" or ask for any of your existing favorite stations and genres. Shape your stations by telling Siri what you like and don't like, or tell Siri to pause, stop or skip. You can also have Siri add songs to your Wish List to download later."