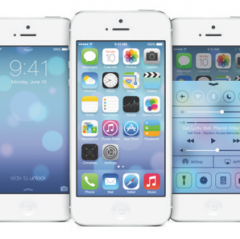 At the opening keynote of Apple's annual developers conference Apple announced it's latest mobile OS,  the iOS 7 which Apple says is the most radical design change to the iOS operating system since the launch of the iPhone back in 2007. " iOS 7 is completely redesigned with subtle motion, an elegant color palette and distinct, functional layers that make it feel more alive.' it adds.
iOS 7 will be available on the iPhone 4, iPhone 4S and iPhone 5, the iPad 2 and later and the iPad Mini, the very first beta of iOS 7, is now available for download to those signed up to the Developer Program.
The new  features and the interface in iOS 7 seems to be greatly inspired by third party apps and other mobile operating systems. The Mail app resembles the hugely popular Google owned Mailbox iOS app, Calendar gets functionality similar to Sunrise app. Even a Blackberry feature got copied through the OS wide back button, which leads you to the previous screen by swiping your finger from the left edge of the screen.
Other new features include Control Center, Notification Center, new male and female voices and  Twitter search integration for Siri. iOS 7 will let users share content wirelessly with a feature called AirDrop. "No need to wander around the room bumping your phone with others," Apple vice-president Craig Federigh said taking a jab at Samsung.
"iOS 7 is the most significant iOS update since the original iPhone," said Craig Federighi, Apple's senior vice president of Software Engineering. "To create it, we brought together a team with a broad range of expertise from design to engineering. With what we've been able to achieve together, we see iOS 7 as an exciting new beginning."