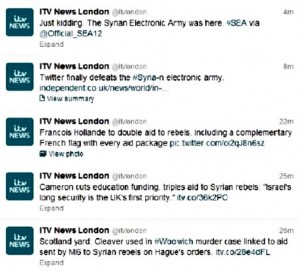 Syrian Electronic Army is at it again, after targeting the Financial Times, the Guardian and the Associated Press British broadcaster ITV on Friday became the latest media target to have one its Twitter feeds hacked by the supporters of Syria's President Bashar al-Assad.
The @itvlondon account on Twitter posted six messages. One said "Francois Hollande to double aid to rebels, including a complementary French flag with every aid package," with a picture of a white flag against a blue, cloudy sky.
Another post said "Twitter finally defeats the #Syria-n electronic army,' with a link to an Independent newspaper article. That was followed by another message, which read "Just kidding. The Syrian Electronic Army was here. #SEA via @Official_SEA12."
The messages have now been deleted. ITV confirmed that it had been hacked, according to a post on its main Twitter account.