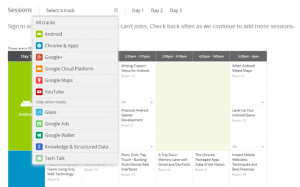 Google  I/O conference, Google's annual conference for Developers which features more than 120 sessions on the Android and Chrome operating systems and  one keynote begins May 15 and ends on May 17  in San Francisco.
This conference is eagerly awaited each year as it usually brings some exciting new development for Android and Google's other projects. Last year at Google I/O was announced along with Google Glass and the ill fated Nexus Q. The three-day annual conference typically assembles more than 5,000 developers,
Google has four sessions scheduled for Google Glass, its new high-tech eyewear, although Google cautions that more sessions may be added later.