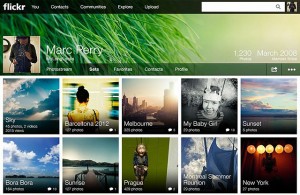 Tumblr got more than its share of attention this week, but, Yahoo did not forget Flickr, another beloved start-up when Yahoo purchased it eight years ago.  Yahoo has announced a new remodel to Flickr that puts more emphasis on the photographs plus Flickr users now get1 terabyte of space without shelling a dime.
"At Flickr, we believe you should share all your images in full resolution, so life's moments can be relived in their original quality," Yahoo said in a blog post. "No limited pixels, no cramped formats, no memories that fall flat."
Flickr now lets users upload 1080p HD video files of up to three minutes in length to their Flickr accounts. New features that puts the spotlight on the photos include  a new slideshow mode that plays photos in slides elegantly and 'facial detection technology' for better face focus.
Flickr pricing has also changed with the increase in storage, Flickr Pro pricing is retired. New paid plans include an ad-free tier, called Ad Free, as well as a tier for power users, doublr, respectively priced at $49.99 and $499.99 for a year of use.
Yahoo also announced a new Flickr app for Android, now available in the Google Play store. Yahoo's last version of it's iOS app for Flickr was embraced warmly and the photo-sharing app saw a over 20% increase in uploads. The Android app better positions Yahoo to gain mobile users and increase mobile engagement.