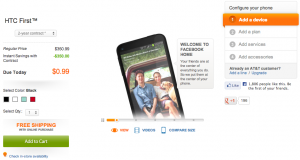 HTC's First smartphone which was the first flagship Android phone for Facebook Home, now is priced at less than one US  Dollar. US carrier AT&T has discounted the price of the HTC First from $99.99 to $0.99, with a two-year agreement.
Facebook has tied up with HTC to launch a midrange smartphone preloaded with Home, the heavily modified Android experience. User reviews for Facebook Home in the Google Play store is lukewarm. It has an average rating of 2.2 out of 5. It has received around 2,700 five-star reviews, compared to more than 8,300 one-star reviews.
The 99% price drop is certainly more appealing for a smartphone that is powered by a 1.4GHz dual-core processor, a 4.3-inch 720p display, a 5MP rear cam, 1.6MP front cam, a 2,000 mAh battery and Android 4.1.2 Jelly Bean. Customers don't have to live with Facebook Home on the HTC First, and can disable it in order to get a near-stock Android experience.