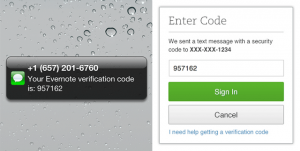 Evernote has today announced that they are beefing up security of their wildly popular app, rolling out two step authentication and two other features to ensure that the user is the only person accessing your Evernote account.
The updates come after Evernote was hacked few weeks ago and usernames, email addresses, and encrypted passwords were compromised.
Two-step authentication works by getting a text message with a verification code, which must be entered on the new device, a code could also be obtained by using an authentication app, such as Google Authenticator, it will only be available to Evernote Premium and Evernote for Business subscribers initially.
The other features are the ability for you to check the history of devices and IPs that have tried to access your account, and a centralized list of Authorized Applications that you can easily revoke, if need be.