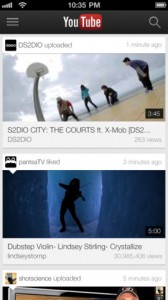 Google updated its YouTube app for iOS on Monday, adding a new features like live streaming and the ability to queue videos for TV playback.
According to the update notes listed in the App Store, version 1.3 brings these new features:
Quick access to new uploads for subscriptions via "My Subscriptions" feed on the Guide.
Access to Live streams.
Queue up videos to play on TV.
One Channel branding for video creator channels.
Stability and performance improvements.
This is the first major update to the YouTube app since the end of February, when Send to TV and the ability to record and upload video via YouTube Capture were added.