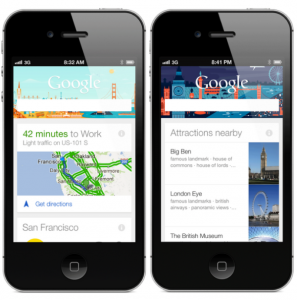 Google was reportedly working on launching its Android based information aggregation tool Google Now to iOS. Google has now officially made Google Now available on iOS  with an update to the Google Search application.
The look and feel is identical to it's Android version and is available for both the iPhone and iPad,
"Google Now is about giving you just the right information at just the right time. It can show you the day's weather as you get dressed in the morning, or alert you that there's heavy traffic between you and your butterfly-inducing date—so you'd better leave now! It can also share news updates on a story you've been following, remind you to leave for the airport so you can make your flight and much more. There's no digging required: cards appear at the moment you need them most—and the more you use Google Now, the more you get out of it." said a Google Blog post.