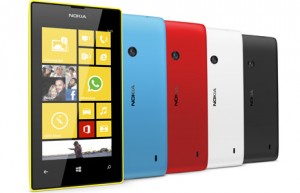 Microsoft is pitching Nokia Lumia 920 against the Samsung Galaxy S3. Microsoft announced today that they are planning to air the " Windows Phone Challenge" touting the camera in the Nokia Lumia 920 vs. the Samsung Galaxy S3.
Since we kicked off the Windows Phone Challenge over a year ago at CES (it was called "Smoked by Windows Phone" back then), the one question I've been consistently asked is:

"When do we get to see this stuff on TV?"

The answer is…THIS WEEK! A new spot that pits the Nokia Lumia 920's PureView camera head-to-head against the Samsung Galaxy SIII will run on ESPN and CBS throughout the men's and women's NCAA tournament. Not a basketball fan? No worries – you can watch it online. Check it out:

The spot is 30 seconds long, but if you want to see the full video of how things unfolded with Brittany – and all of our other Windows Phone Challenge videos – head over to the Challenge Playlist on our YouTube channel.