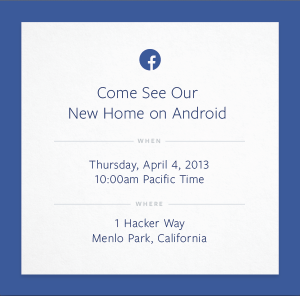 Facebook is up to something. Facebook sent out an invitation to the media early this morning (Thursday afternoon San Francisco / Pacific Time), inviting media personnel to attend an event on April 4 where Facebook would show off their "new home on Android."
The invitation, as pictured on the right, says, "Come See Our New Home on Android," and includes no other details as to what may be unveiled.
Going by Facebook's history of similar announcements, April 4 news will be as grand in scope and implications as Graph Search or the new look for News Feed, two major product announcements that Facebook announced at its campus earlier this year.