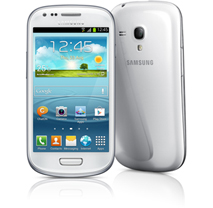 Out of  123.3 million people in the U.S. using smartphones in November 2012, 53.7% people used Android according to a study by ComScore,  26.9% of them are using Samsung devices. Apple's iPhones accounted for 35% of all smartphone subscribers, with overall mobile share of 26.9%.
"Smartphone Platform Market Share
123.3 million people in the U.S. owned smartphones (53 percent mobile market penetration) during the three months ending in November, up 6 percent since August. Google Android ranked as the top smartphone platform with 53.7 percent market share (up 1.1 percentage points), while Apple's share increased 0.7 percentage points to 35 percent. RIM ranked third with 7.3 percent share, followed by Microsoft (3 percent) and Symbian (0.5 percent).
Top Smartphone Platforms
3 Month Avg. Ending Nov. 2012 vs. 3 Month Avg. Ending Aug. 2012
Total U.S. Smartphone Subscribers Ages 13+
Source: comScore MobiLens
 
Share (%) of Smartphone Subscribers
Aug-12
Nov-12
Point Change
Total Smartphone Subscribers
100.0%
100.0%
N/A
Google
52.6%
53.7%
1.1
Apple
34.3%
35.0%
0.7
RIM
8.3%
7.3%
-1.0
Microsoft
3.6%
3.0%
-0.6
Symbian
0.7%
0.5%
-0.2
Mobile Content Usage
In November, 75.9 percent of U.S. mobile subscribers used text messaging on their mobile device (up 0.3 percentage points). Downloaded applications were used by 54.2 percent of subscribers (up 0.8 percentage points), while browsers were used by 52.1 percent (up 0.1 percentage points). Accessing of social networking sites or blogs increased 0.9 percentage points to 39.2 percent of mobile subscribers. Game-playing was done by 33.7 percent of the mobile audience, while 28.7 percent listened to music on their phones (up 0.4 percentage points)."