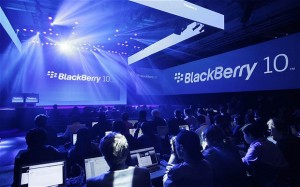 Blackberry maker Research in Motion dumped their name and picked up the brand name which made took them to the pinnacle of mobile success, they've chosen to change their name and branding to reflect who they really are, they will be known simply as "BlackBerry" going forward.
BlackBerry says it says will put the company on the comeback trail in a market it once dominated, promising its BlackBerry 10 devices will wow consumers and businesses alike when they hit stores.
Chief Executive Officer Thorsten Heins said RIM was abandoning the name it has used since its inception in 1985. From now on, he told tech analysts and other guests, the company will just be known as BlackBerry.
"We have definitely been on a journey of transformation, a journey to not only transform our business and our brand, but one which I truly believe will transform mobile communications into true mobile computing," Heins said at a New York launch event.
"It's been almost one year exactly since I was handed the reins at Research In Motion, and it has been easily the most challenging year of my career to date. It has also been by far the most exhilarating and the most rewarding one."
"For me, the BlackBerry hub is the most exciting thing about BlackBerry 10, said Vivek Bhardwaj, head of software portfolio, BlackBerry. The Hub integrates social network notifications in addition to BBM and email. users can tweet directly from the hub, act on notifications, without leaving the Blackberry hub.