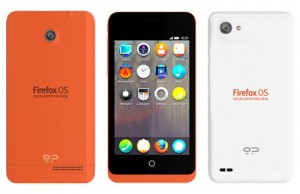 Mozilla, who gave us the a better alternate to the archaic Internet Explorer browser had long had plans to change the mobile OS arena,it  introduced  phones powered by  Firefox OS on Tuesday.
Stormy Peters, Director of Websites and Developer Engagement at Mozilla wrote :
"Firefox OS is a new mobile operating system built entirely using open web standards. In Firefox OS, HTML5 apps can do "phone things" – they can make the phone vibrate, make a phone call or send a text message.
This week we are announcing our new Firefox OS developer preview phones because we believe that developers will help bring the power of the web to mobile. These developer phones are being developed by Geeksphone in partnership with Telefonica and Geeksphone.
CPU Qualcomm Snapdragon S1 1Ghz
UMTS 2100/1900/900 (3G HSPA)
GSM 850/900/1800/1900 (2G EDGE)
Screen 3.5″ HVGA Multitouch
3 MP Camera
4GB ROM, 512 MB RAM
MicroSD, Wifi N, Light and proxmity Sensor, G-Sensor, GPS, MicroUSB
1580 mAh battery
Over the air updates
Unlocked, add your own SIM card"