The Microsoft Surface Pro with Windows 8, will start selling  in U.S. and Canada on February 9th and will soon after make it to U.K.shelves.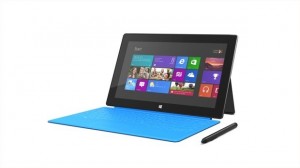 Microsoft took it's own sweet time in  launching the premium tablet, which shares a similar design with its Surface RT variant but packs an x86-based Core i5 chip, 4GB RAM, a 10.6-inch 1920×1080 pixel screen, 64-128GB internal storage, a USB 3.0 port, mini DisplayPort, included pen input and a 42Whr battery.
The Surface RT was aimed at the tablet market, however the Surface Windows 8 Pro will essentially serve as Microsoft's own competitor in the ultrabook arena. The Surface Windows 8 Pro tablet starts at U.S. $899, in contrast to the $499 entry point for the Surface RT.