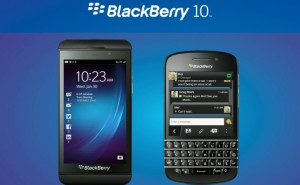 At the New York BlackBerry 10 Live event,  Thorsten Heins announced  the new BlackBerry OS  and new BlackBerry 10 devices, the BlackBerry Z10 and BlackBerry Q10.
BlackBerry Z10 comes with a  4.2-inch 1,280 x 768 display with a pixel density of 356 dpi — and measures in at 5.13 (130mm) x 2.6 (66mm) x 0.37 (9.3mm) inches, making it significantly bulkier than the iPhone 5.
It is powered by a Dual core TI OMAP 4470 1.5GHz processor, a system-on-a-chip processor that contains two ARM cores,  2GB of RAM, 16GB of internal storage.
The camera is the now standard  8 megapixel back camera and  2 megapixel front camera which could record
1080p videos. Thankfully, it has a MicroSD slot with NFC capabilities. Blackberry also has equipped it with a MicroUSB port and  MicroHDMI port. It comes in LTE and Wi-Fi variations.
The Z10 will be available in the UK tomorrow.In the UK, the BlackBerry Z10 will come on EE, O2, Vodafone, Phones 4u, BT, 3UK and the Carphone Warehouse.
Blackberry Q10 is the first BlackBerry 10 smartphone to feature a physical keyboard, it runs on a 1.5GHz processor with 2GB of RAM and 16GB of inbuilt storage, and carries a microSD slot just like the Z10.
The 3.1-inch super AMOLED touchscreen has 330ppi, 720 x 720 display. It has an 8-megapixel rear camera, and a 2-megapixel front-facing camera.