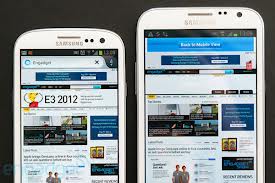 Android phone makers such as  Samsung, LG, HTC and Sony will continue to bank on strong demand for 5-inch smartphones / phablet in 2013 according to Digitimes.
Apple, Blackberry and Nokia have no plans for 5-inch smartphones this year according to unnamed industry sources. How big is the opportunity these companies are missing? Digitimes cites research suggesting 60.4 million smartphones with screens measuring 5 inches or more will ship this year, and that figure will climb to 146 million units in 2016.
The report says:
"The rollout of an array of 5-inch Android-based models by HTC, Sharp, Sony Mobile Communications, Huawei Device, ZTE, Lenovo and Oppo Mobile in 2012 has highlighted the mainstream position of 5-inch displays among flagship models, commented the sources.
Sales of smartphones with displays in 5-inch or larger sizes are expected to expand 136% on year to 60.4 million units in 2013 and climb to 146 million units in 2016, noted the sources, citing data from market research firms.
Despite growing sales of larger display models, vendors of Windows Phone 8 (WP8) smartphones are hesitant about venturing into the 5-inch segment as WP8 does not have enough support for full HD displays, revealed the sources.
Nokia's latest high-end WP8 model, the Lumia 920, boasts a 4.5-inch display, and chances are high the vendor to roll out new models with display sizes up to 4.7-inch at the largest in 2013, indicated the sources, adding that Nokia is likely to be absent from the 5-inch segment.
Apple is also unlikely to bring out 5-inch models in 2013 because the company just released its 4-inch iPhone 5 in the second half of 2012, and software developers are currently busy optimizing their applications for the model, said the sources.
Research in Motion (RIM) will begin to roll out its BlackBerry 10 family in the first quarter of 2013, with at least six models planned for the year, noted the sources. But leaked information indicates that RIM's high-end model for the year, the Z10, will have only a 4.2-inch display. Therefore, it is believed that RIM is also unlikely to come out with 5-inch models in 2013."