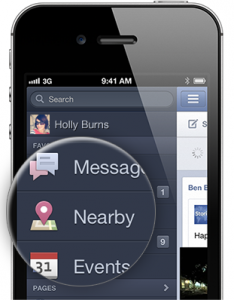 Facebook today announced an update to Facebook for iOS and Android that lets the mobile users discover new places their friends like, with this revamp Facebook seems to be getting ready to compete even more closely with Foursquare and Yelp.
The updated version of the app features a refreshed Nearby tab, which, according to a post on the Facebook Newsroom website, now shows recommendations from friends:
From the app menu, open the tab to find local spots your friends have recommended, checked into, or liked. If you're looking for a place to eat, choose a category like Restaurants to see what's nearby. When you find a place that looks interesting, tap to see info like friends who've been there and business hours.
Another new feature is that it allows users to share their own opinions by rating or recommending places. Facebook said that the update is an early release, however, and "there's lots more to do." So, results will improve the more people use Nearby.
TechCrunch has posted an extensive hands-on with the service, and it appears heavily inspired by Foursquare's ever improving mobile app.