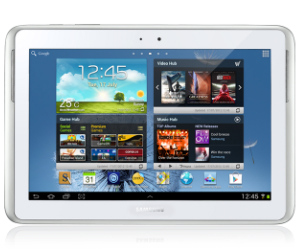 Product: Galaxy Note 10.1
Manufacturer: Samsung
Price: £374.67
Over the past couple of years, since the release of the iPad really, tablets have gotten more and more popular. There have been quite a few nice Android powered tablets on the market in that time too, devices such as the Galaxy Tab 10.1 which showed that not only Apple can come out with a decent tablet that can actually replace laptops in a lot of people's lives. When the Galaxy Note was released at the end of last year, with its almost 6 inch screen, a lot of people commented that it was almost like a tablet itself, but Samsung have gone one further and released the Galaxy Note 10.1, the real tablet in the Note family.
The main selling point with the Galaxy Note 10.1, apart from the power of the tablet itself, is the fact that is comes with its own stylus. There are a couple of apps that come pre-installed on the device that make good use of this stylus, the most impressive of which is S-Note. On the surface it's a note taking application, nothing special there, but it's when you start delving deeper into what the application allows you to do that you start seeing the benefits of using something like this. Firstly, the stylus is pressure sensitive, so every pen stroke that you create on the screen actually looks like you've written on paper with a pen. Secondly, and something which impressed me, was that while you're using the pen, even when your hand is touching the screen (as it's bound to do when you're moving your hand all over it) you won't accidentally create marks all over your work.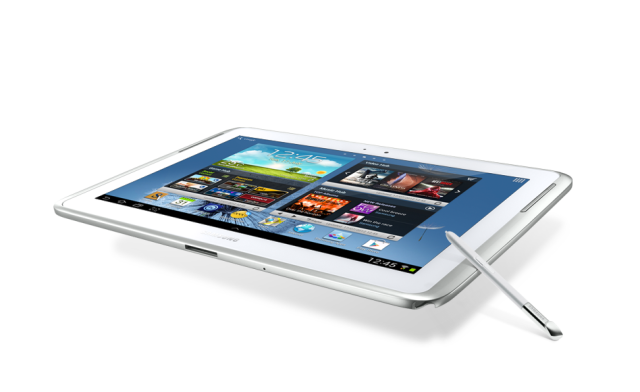 Using the pen to work on the tablet does feel like a bit of a niche thing, and it's certainly not something that everything is going to be interested in, but while you are using the two together there's a definite feeling that this is how it should be used. Perhaps it's the years of using pen and paper, throughout school and work, but when you've got the stylus in one hand, and the tablet in the other, it feels as if it's the way that the device is meant to be used. Even though the device comes with a stylus (which fits very nicely into the shell of the Galaxy Note I might add) it also works well just using fingers, which you're more than likely used to by now. All of your typical Android applications work better than ever on the powerful device and you'll be playing your favourite games, watching TV shows and performing the multitude of other tasks that you can do in a matter of minutes.
One nice feature that the Galaxy Note 10.1 has is the two cameras, one facing the front and the other behind the device. I'm not one that feels the need to take pictures on my tablet but as a family device, with one of its main uses being to call people using Skype, it's very nice to have the dual cameras so that you are able to webchat with your family, who may be on the other side of the world, right from the tablet itself.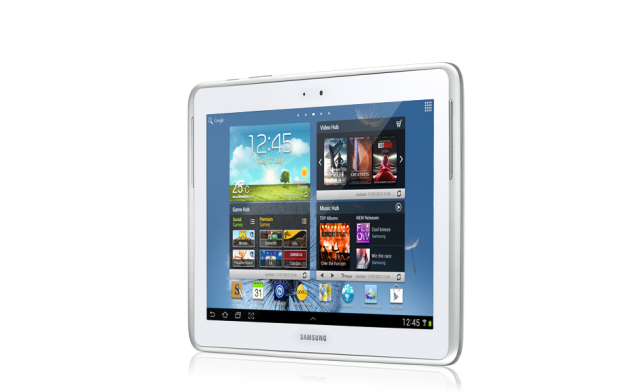 FEATURES:
Large display, providing multi-screen functionality to maximise efficiency in learning, work and creative environments
Ensuring intuitive multitasking and web browsing, Galaxy Note 10.1 runs on Android 4.0 and features a 1.4 GHz dual-core processor and HSPA+ connectivity
S Note – a unique and efficient tool that lets you combine notes or sketches together with web content, images and other digital media
SPECIFICATIONS:
Network: HSPA+ 21 Mbps (850/900/1900/2100), EDGE/GPRS (850/900/1800/1900)
Processor: Dual Core 1.4 GHz
Display: 10.1 inch WXGA 1280 x 800 PLS TFT
OS: Android 4.0 (Ice Cream Sandwich)
Main Camera (Rear): 3 MP Auto Focus camera with LED flash
Sub Camera (Front): 2 MP camera
Video Codec: MPEG4, H.263, H.264, VC-1, DivX, WMV7, WMV8, WMV9, VP8
Video Format: 3GP (MP4), WMV (ASF), AVI, FLV, MKV, WebM
Video Playback/Recording: 1080p Full HD at 30 fps, 720p HD at 30 fps
Audio Codec: MP3, OGG, WMA, AAC, ACC+, eAAC+, AMR (NB, WB), MIDI, WAV, AC-3, Flac
Audio Features: Music Player with SoundAlive, 3.5 mm Earjack
Value-added Features/Services: Samsung TouchWiz, Samsung L!ve Panel, S Pen Experience (S Note, S Planner), Samsung Apps, Samsung Hub (Readers Hub, Music Hub, Game Hub, Video Hub), Samsung S Suggest (App recommendation service), Samsung ChatON (mobile communication service), Samsung AllShare Play, Google Mobile Services (Android Market, Gmail, YouTube, Google Maps, Syncing with Google Calendar, Google Search, Google +), Adobe Apps (Photoshop Touch, Adobe Ideas), Polaris document editor, S-GPS, Glonass
Enterprise Solutions: Exchange ActiveSync, On-Device Encryption, Cisco VPN (Virtual Private Network), Juniper Junos Pulse VPN
Connectivity: Bluetooth v3.0 (Apt-X Codec support), USB 2.0 Host, Wi-Fi 802.11 a/b/g/n (2.4 & 5GHz), Wi-Fi Direct, Wi-Fi Channel Bonding
Sensor: Accelerometer, Digital compass, Light, Gyroscope
Memory: 16 Gb user memory, 1 Gb RAM, upto 32 Gb external memory (via microSD)
Dimensions: 256.7 x 175.3 x 8.9 mm
Weight: 583 g
Battery: Li-ion, 7000 mAh

VERDICT: The Samsung Galaxy Note 10.1 is clearly aimed at the people that will make good use of the pen functionality of the device, taking notes, drawing and all of the other aspects that make the device just that little bit special. That being said, anyone who is in the market for a brand new tablet could do much worse than the Note, it's sturdy, lightweight and the battery seems to last for ages. Android is an operating system that's really coming into its own as of late, and it's something like the Note, a device that utilises everything that the Android operating system can offer, which makes people stand up and take notice. It's not cheap (although it's not as expensive some other tablets I could mention) but you absolutely get your money's worth; if you're on the lookout for a new tablet then you should at least find a way to have a go with one. You're bound to be impressed.
Words by Martin Baker.