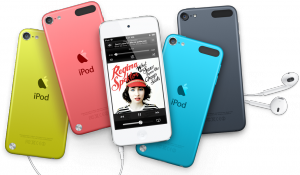 Apple has not ignored its touch based iPod this year, unlike last year, Apple announced an update to the iPod touch line of devices. The newest 5th generation iPod touch also runs the dual core A5 processor and shares  the same larger 4-inch screen as the iPhone 5.
The new fifth generation iPod touch is just 6.1mm thick , its made of anodized aluminum and weighs grams. It also features Siri support and comes in five colors (raw aluminum, black, blue, yellow and red), and includes a new wrist strap called the iPod touch loop.
In US it will sell for US $299 for the 32 GB model, while the 64 GB version is $399.The fourth generation iPod touch will remain available for $199 for the 16 GB model, while a 32 GB model will be $249. The camera has been bumped to a 5 megapixel and supports panoramic photos. Battery has been beefed up, Apple claims that the iPod touch offers up to 40 hours of music playback, or 8 hours of video.
iTunes also received an upgrade, The new version sports a more vibrant design and new functionality. Apple says to expect to see the next-generation of iTunes launch in October, however, it did not provide an exact release date.
Apple also launched newer earphones for its idevices – EarPods. The EarPods  are available now in the Apple Store in US and will ship with the new iPod touch and iPhone 5.