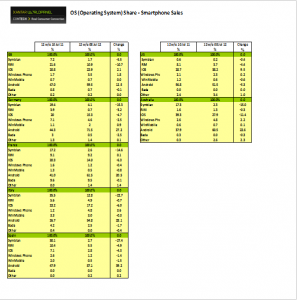 Samsung is the top selling brand in Europe at the moment, a part of the credit goes  to aggressive pricing in a region hit by economic pressures and the  successful launch of the latest in Galaxy series Galaxy S3 in May according to Kantar Worldpanel ComTech, which bases its conclusions on more than 1 million of interviews with consumers every month.
45% of all smartphone sales were for Samsung phones across the UK, Germany, France, Italy and Spain in the last 12 weeks that ended July 8.  Apple's iPhone  for the same period accounted for just 16% of all sales in the region.  Apple's poor numbers were also highlighted by Apple during its last earning report.
Android's share of sales jumped from 43% a year ago to 66% currently  across the  five European countries. The UK is the only market where RIM managed to go into double digits for sales, with 10.9% of sales , although that is half of what it was last year.