Microsoft's recently launched webmail service – Outlook.com now has 10 million users according to an announcement by the company. In its first day of launch, the service hit the 1 million mark.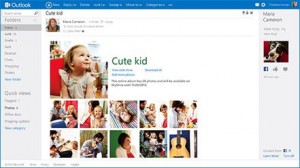 The Metro/Windows 8 look of Outlook.com, with large fonts, tiles and other new design elements is now also starting to appear in other Microsoft products and today, SkyDrive.com, Microsoft's online storage service, is getting a major design overhaul.
"Since we launched the Outlook.com preview two weeks ago, we have been truly humbled by the reception. We've received hundreds of great comments, participated in thousands of threads on @reddit, @gizmodo, @neowin and are excited to share that, as of today, more than 10 million people have signed up and started using Outlook.com. " wrote Chris Jones on Microsoft's blog.
"As you've seen with the preview of Outlook.com, we're bringing a fresh approach to how we design our web experiences. With the update to SkyDrive.com that's rolling out over the next 24 hours, we've taken the same DNA from the SkyDrive Windows 8 app and brought that to the web. We've updated nearly 100% of the SkyDrive UI to provide a fast and fluid web experience on all browsers and devices." he added.