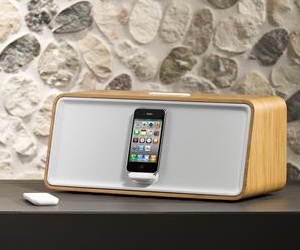 When it comes to listening to music these days, the consumer is presented with a plethora of options; almost too many. Whether it's a simple case of throwing some headphones in and listening solo, or streaming music from a personal computer to a media server like an Xbox 360 or PlayStation 3, whatever you choose to do, most people have an option in their home already.
It's with that in mind, that a dedicated box, purely for music is a tough sell. However, the sonoro Cubodock is a phenomenal device, offering superb sound quality with excellent streaming options.
At first glance, you'd be forgiven for thinking it was just a simple dock for your iDevice, indeed, iPod and iPhone devices are fully supported and although not listed, iPads work flawlessly too, but delve a bit deeper and you'll discover there is more than meets the eye; it's not just a glorified charging dock.
You see, hidden behind the sleek German design of the Cubodock – available in handcrafted, curved corner wood finish, black/white, white/white, white/pink, white/green, walnut/black and bamboo/white colours – is the strength that comes with connectivity. Sure, you could just dock an iPhone and use remote control to listen to music, but the fact that the Cubodock has bluetooth connectivity means you have an even easier way to operate the device.
Pairing any bluetooth enabled music source (iPhone, Android, etc) is as simple as you'd hope. Put the pin (supplied in the manual) into your device and the Cubodock is instantly ready to stream your music. In a world that is full of the most mind blowing tech, the simple elegance of it all just working is a welcome change.
But of course, no matter how well it works, it'd be worthless if it didn't sound excellent; and it does. Testing with MP3 files of varying quality means that – of course – the music can only ever sound as good as the original source, but regardless, the Cubodock always sounds superb. At high volumes the sound remains crystal clear. It would have been nice to have some form of EQ on board the actual dock, but the fact that the source machine will usually have some form of EQ, or preset sound models means that it's not wholly neccessary.
Despite only being a stereo unit, it really does kick out some major volume, with a thick, deep bass too. There's very little to complain about with the sonoro Cubodock in terms of build or sound quality. The only major sticking point comes in the form of the £199.99 recommended retail price, which is not cheap.
VERDICT: However you look at it, for its single purpose of playing music from a docked iDevice, or any bluetooth enabled music player, the Cubodock is not cheap and has to be deemed a luxury. That said, the sound quality is superb and the ease of use is wonderful. If you're a genuine music lover and want a dedicated box to play your tunes from, you could do a lot worse than investing in a really nice, expensive feeling piece of kit like the sonoro Cubodock.