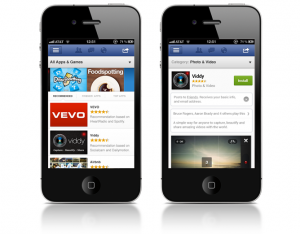 If you have been eagerly pinning for Facebook App Centre which was launched almost a month ago in the US, your prayers are now answered. Facebook has now launched it over in the UK.
Facebook App Centre  makes it easier for its members  to find games, music services and media content. It had more than 600 apps available from day one – including Instagram, Spotify Pinterest and Draw Something. The UK version has added some extra Euro-specific services such as the popular French music streaming site Deezer.
"Success through the App Centre is tied to the quality of an app. We use a variety of signals, such as user ratings and engagement, to determine if an app is listed in the App Centre. To help you [developers] monitor user feedback, we are also introducing a new app ratings metric in Insights to report how users rate your app over time. Well-designed apps that people enjoy will be prominently displayed. Apps that receive poor user ratings or don't meet the quality guidelines won't be listed." said Facebook's  engineer Aaron Brady while announcing the app few weeks ago.