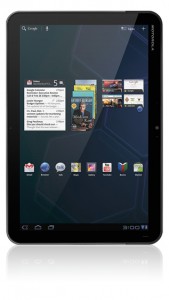 The Motorola Xoom is an impressive piece of tech.
The preferred size of a tablet is quite a personal thing. The Xoom being somewhere between that of larger tablets like the iPad, and smaller tablets such as Dell's Streak 7 is quite a good place to be. However, as with many tablets, the weight is still an issue. Holding the 730 grams Xoom in one hand for any period of time can become a strain.
Motorola made a smart move including cameras on both the front and back of the tablet, making video-chatting a piece of cake. Android lends a hand here too, with video calling built into GTalk.
The battery life is quite impressive with around 10 hours of usage.
Android™ 3.1 (Honeycomb). Upgradeable to Android 4.0 (Ice Cream Sandwich)
10.1″ HD widescreen display
Dual-core processor & 1GB RAM
Up to 64GB storage
For this review we used the WiFi-only option, which didn't feel hindered in any way. WiFi is pretty omnipresent in the Western World, these days. But for those odd occasions when there's no signal, you can tether from an Android phone to the tablet without a problem.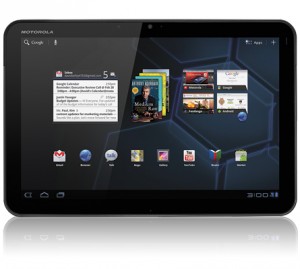 The dual core processors and 1GB RAM really make this tablet stand out as one of the fastest on the market. Being so powerful has its downsides though. Unfortunately, although it uses micro-USB to interact with a PC, the Xoom cannot be charged over USB. Meaning you'll have to carry around the power adapter if you intend of charging the device.
It should be mentioned that the resolution is an impressive 1280×800. That's a native resolution higher than 720p. HD video content looks amazing on this device.
The inbuild speakers are nice and loud too, producing sound at a volume for the whole room to hear. However, the headphone socket is far too quiet. We tried different headphones in the Xoom, and none were sufficiently loud enough. Meaning you won't be watching films on this tablet while on a plane journey. It's totally inaudible at 30,000 feet.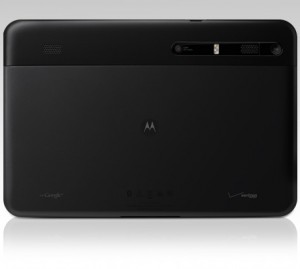 Android 3.0 is absolutely fantastic, but Motorola pulled an Ace out of their sleeves with the free and optional upgrade to Android 4.0. Keep an eye on the Motorola Android Software Upgrade News page for updates.
At around £450, the Motorola Xoom is definitely a worth-while purchase. You don't need to own any other Android devices, or even a PC to get the most of the the Xoom. It's a completely un-tethered experience, unlike its main competitor.
We're definitely excited to see more of the Xoom 2. Which boasts an even faster processor, 10 percent lighter and 33% thinner frame, with brighter HD screen and the addition of MotoCast, to
stream PC files directly to your tablet.