HTC has been busy at IFA in Berlin just recently, having announced two new Windows Phone devices, the Titan and Radar. One thing is very clear about these two upcoming phones – the HTC 7 Trophy is clearly their technological father, and we've recently got our hands on one.
The first thing you notice when you pick up the device is its weight, coming in at 140 grams it feels sleek and nice to hold. From the front, the device is as attractive as anyone could want it to be, with its large 3.8 inch screen surrounded by a slim silver bezel, it makes for an eye-pleasing device. The back however is a little different, the almost silicone feel makes it seem as if there is a case on the back, and it doesn't match the industrial feel on the front of the device. Although this was probably a feature rather than a design fault, with the back feeling less slippery.
Hardware wise, the HTC 7 Trophy still holds up well enough, even though it is nearly a year old now. The 400 x 800 WVGA screen is complimented by a snappy 1 GHz processor, which makes navigating the Windows Phone 7 OS fast and simple.
The camera is most impressive. 5 megapixel with autofocus and a very bright flash make snapping photos a pleasurable experience. The quick access to the camera (hold the camera button down for a second and there is no need to unlock the screen) makes capturing a moment as painless as possible. The zoom is pretty decent too, though as with any camera, you lose a lot of picture quality by using it. The already excellent camera is also capable of 720P video recording, and videos are a pleasure to view on the device itself or on a computer.
Battery life is about the standard you can expect from any smartphone theses days, and it will last you a day with moderate use. Expect to have your charger by your bedside every night.
So, hardware wise, the 7 Trophy is very good, but what is the operating system like?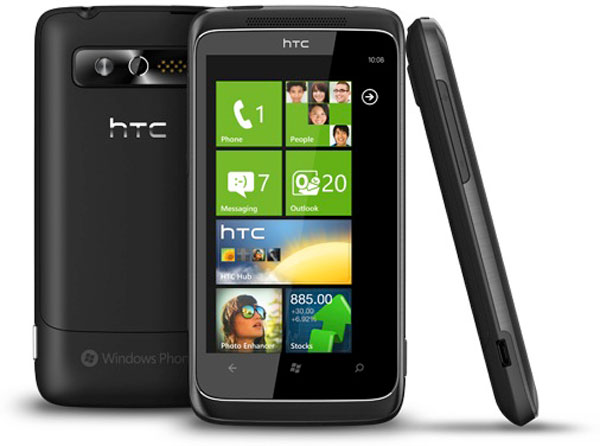 Windows Phone 7 OS is in its infancy. With the launch of its next iteration, Mango, on the horizon, users can expect great improvements with the overal performance of the OS. As it stands, it is quite a way behind the competition. That's not to say it's horrible to use, but the lack of third party support, push notifications and a unified email client, it can be difficult to organise yourself properly. App wise, there are three places to go shopping – the Windows Marketplace, Xbox LIVE and the HTC Hub. Games are great on the 7 Trophy and Xbox LIVE integration is one of the major positives about any Windows Phone, and the games perform very well on this device.
The HTC Hub offers up the best YouTube App for Windows Phone, as well as the usual organisational tools that many use daily. One very clever HTC app is the Attentive Phone app, which makes it very easy to put the phone into different modes depending if it is in your pocket, in a meeting or on an aeroplane. The fact that such an app is required, however, shows that the operating system needs work.
Overall, the HTC 7 Trophy is a great piece of hardware, slightly let down by its fledgling operating system. It does show a bucket load of promise, however, and anyone looking for a cheap smartphone (you can pick up a 7 Trophy for around £25 per month) could do a lot worse than this phone. With Windows Phone Mango and new Windows-powered HTC devices on their way, things can only get better for the partnership.