Samsung's entry into the Windows Phone 7, the Omnia 7, is a brilliant piece of tech. The first thing you'll notice before you even pick up this phone is the size of the screen – it's huge! At 4inches, the Super AMOLED Plus screen glows with pride.
The handset itself isn't amazing in design, it's pretty plain and sans-frills, but I think that's probably the look they were going for. Everything about the design seems like Samsung want you to focus on the screen and nothing else. And focus you do. The crisp quality of AMOLED technology hasn't been overstated, it clearly stands out over the other Windows Phone 7 handsets currently on the market.
With an inbuilt 5mb camera supporting 720p video, photos and videos are of industry standard. Again, it's the screen itself that shows them off more than anything, but once you transfer the content to a computer it's not going to look any better or worse than taken on another 5mp/720p Smartphone camera.
Having 8 gigbytes of onboard space is fantastic, but for some reason Samsung have opted not to include a micro-SD card slot on the Omnia 7, meaning there's no way of expanding the space on the phone – so if you do fill that initial 8gb, you'll have to start deleting content.
There is however a micro-usb port on this phone, which is always good to see (and could become a legal standard in Europe if the EU get their way). The micro-usb port is of course used for charging as well as synching data to a computer. The only niggle here is that the port is located on top of the phone, meaning we won't be seeing any standard drop-in/on docks for this phone. Silly design flaws like this are what prevent a great phone from becoming an amazing phone.
Credit where it's due, the Omnia 7 is incredibly fast and responsive. It's a great device for playing Windows Phone 7 games and Zune movies on. This is down to the 1 GHz Scorpion processor, Adreno 200 GPU, Qualcomm QSD8250 Snapdragon chipset and 512mb of RAM.
Along with the standard Windows Phone 7 applications, Samsung include a couple of their own in the mix. 'Now' and 'Photo Sharing'. Now is a useful tool for displaying news (via RSS feeds), weather and stocks. Photo Sharing is also potentially useful, if you like to upload photos regularly to Facebook, Flickr, Friendster, MySpace, Photobucket and/or Picasa.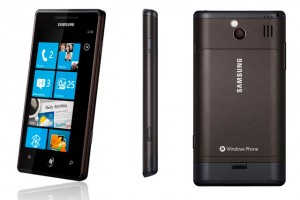 If you're looking to adopt Windows Phone 7 as your mobile OS of choice, you'd be silly not to buy a Samsung Omnia 7 at this point. While the many of the feature are currently pretty standard with Smartphones at the moment, the Super AMOLED Plus screen really pushes the phone forward into something that stands out among the crowd.
We reviewed this phone on Three UK. Check their website for more information.