Originally dubbed The Playstation Phone, Sony's Xperia Play is the first Smartphone to feature a gamepad. Something that hasn't really been attempted since Nokia's N-Gage, which was launched in 2003 and re-released in '08.
It works. The phone slides out to reveal the gamepad, which functions exactly as it should. With a d-pad, X, O Triangle, Square. Start, Select, Menu and the two touch-sensitive 'analogue' controllers. At the back are two shoulder buttons, R and L. When you do slide the phone open, you're greated with the Xperia Play app, which features all your purchased 'Xperia compatible' games. Not to be confused with the Playstation Pocket app, which is the place to go to find all of your PSOne titles.
The phone is of course running the latest version of Android, 2.3 also known as Gingerbread, with a handful of Sony tweaks – such as the home screen icons – and proprietary apps including: Timescape, TrackID, PlayNow and LiveWare manager.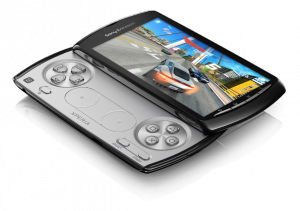 For the most part, the technical specifications are pretty standard Smartphone specs:
1GHz Snapdragon processor
512mb RAM
5mp Camera8GB microSD card
with the exception of the embedded Adreno 205 GPU graphics, which is a nice addition, allowing for the crisp Playstation gameplay.
It's worth mentioning though, what an odd position the Headphone slot has been placed in. It's on the side of the phone, presumably to be a the 'bottom', when the phone is slid out into Playstation mode. But while you're using the phone in it's regular capacity, the headphones pop out of the side, this can be awkward if you listen to music with the phone in your pocket.
This is a fast, powerful Android phone, that's great for gaming. It does needs more games, and the games need to be cheaper – but I'm sure Sony are working on it. The Xperia Play is definitely something a bit different, in a Smartphone market flush with iPhone clones.