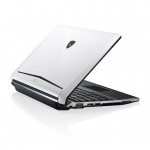 Model: Lamborghini Eee PC VX6
Manufacturer: Asus
Price: ~£499
Availability: Out now
When it comes to gorgeous design, Apple tend to lead the way. There aren't many elegant models in the PC market. That is, there weren't until Lamborghini got involved.
We took a look at the Lamborghini Eee PC VX6 to see what you get when you combine top netbook manufacturers Asus with prestigious car manufacturers Lamborgini.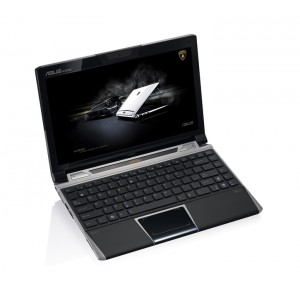 Asus describe the VX6 as a laptop "for those who want to turn heads on and off the road". They hit the nail on the head with that statement. This laptop has the beautiful curves you'd expect to see on the Italian sports car.
This computer was inspired by the superstar Murcielago LP640 Roadster with its sleek lines, elegant glossy exterior in black or white and the Lamborghini badge adorning the lid.
From the moment you turn the VX6 on, the experience begins. The laptop purrs at you with the revving sound effects of a Lambo, before booting into Windows 7 – which runs like a charm.
The build quality is second-to-none. This Eee may look like a piece of art, but it feels sufficiently sturdy and well-made. It's not just made to look at, the Lambo Eee is meant to be used.
And used it was, the  performance was as expected for the specifications listed below. NVIDIA's Ion 2 graphics card with Optimus technology ensures a crisp graphical display. With just over 12 inches the screen is ideal. Just that bit larger than a 10 inch netbook, but not quite the full size of a heavier 15 inch laptop. The VX6 sits nicely in-between.
It should be noted that the asthetics and performance aren't the only areas this laptop shows off. There are some brilliant little touches in the hardware, including the glossy touchpad and a very useful USB 3.0 port.
The VX6 offers effortless computing with the stamina, speed and style of a Lamborghini and is the must-have-gadget for fans of this iconic car.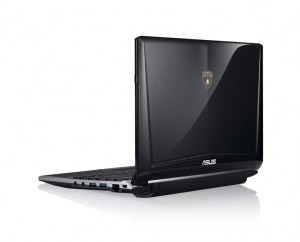 Specifications:
Processor: Intel® Atom™ D525 (dual-core, 1.8GHz)
Chipset: Intel® NM10
Memory: 2GB DDR3
Graphics: NVIDIA® ION™ 2 (512MB VRAM) with Optimus technology
Storage: 250GB hard drive + 500GB ASUS WebStorage
Screen: 12.1" LED-backlit with 1366 x 768 resolution
Networking: 802.11b/g/n Wi-Fi, Bluetooth 3.0, 10/100 Ethernet (RJ-45)
Ports: VGA, HDMI, 2x USB 3.0, 1x USB 2.0, 3.5mm headphone,
3.5mm line-in, MMC/SD Card reader
Webcam: 1.3-megapixel
Battery: 6-cell (57.72Wh) lithium-ion with up to 6 hour battery life
Size: 297 x 204 x 28.7mm (11.7 x 8 x 1.13")
Weight: 1.5kg (3.31lbs)
Operating system: Microsoft® Windows™ 7 Home Premium and ASUS
Express Gate
Warranty: Global 1-year collect and return
With a Recommended Retail Price of £499 (inc VAT), the VX6 can currently be found at Amazon on sale for only £469.