We've reviewed a fair few headphones and headsets at Sporkings.com and they tend to often fall into the categories of "okay" or "great". Well, not with these babies.
It's very rare that I review a piece of tech that blows me away, but from the moment I unboxed these beauties, I had the feeling this was going to be one of those times. They didn't disappoint.
The Crossfade LPs arrive from v-moda in a neat little box that has a press-stud open, rather than sticky tape. Inside is the black exoskeleton case. It's only packaging, but it's the little things that leave an impression and enable a product to stand out amongst the masses. Within the case you find the shiny gun-metal headphones and cables, one for smartphones and one for regular audio. Both 3.5mm audio jacks are 24K gold, the wires themselves are made of kevlar – these cables aren't going to wear down easily. So before I got these headphones on my head I was impressed, but presentation aside, it's the audio quality that's important.
These headphones are clearly aimed at music fans. The bass is just fantastic, you feel every beat as it was intended to be heard. The patented dual-diaphragm shape of the headphones allow for what v-moda describe as a "vibrant and immersive sound". That's definitely a statement I wouldn't argue with. When you're listening to music on the Crossfades, you're really there, in the moment. I found them great for wearing around the City – especially when it comes to cutting out the sound of the noisey London Underground.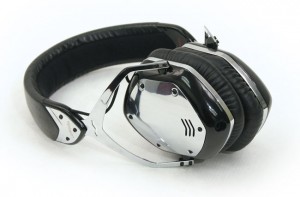 I think it's fair to say the v-moda's Crossfade LPs are the nicest headphones I've ever listened to music on. Both for looks, and sound quality. I will say though, they're definitely tuned for listening to music, and lively music at that. If you're looking for headphones purely for listening to podcasts or music with no beat, these might not be for you. However if you like a bit of bass in your step, pick up a pair of these and you won't regret it.
I did find one con with the Crossfades though. The sizing seems to be limited at a size smaller than your average headphones. I had to wear them at full extension, and contrary to popular belief, I don't have a big head! It's fair to say that if you're a bit of a meat-head, you might want to try these babies on before you purchase. Just in case they don't actually fit. Other than that, I couldn't find anything wrong with them, from design, to presentation, to application.
Speaking of design, if you're the kind of person that likes to stand out in the crowd, there's the option to personally customise your headphones directly from the v-moda website. Chose custom designs and engrave personal messages onto the side plates, to look extra cool – and deter theft at the same time. You can't go wrong!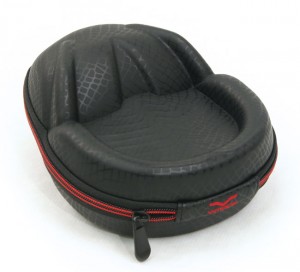 In conclusion:
The build quality is second to none. I've had some fantastic looking headphones, but they tend to be quite flimsy. The Crossfades are as robust as they are sexy.
It may not be important to everyone, but the packaging and presentation is of Apple standard.
The audio quality is amazing. There aren't many headphones in this price range that can produce music at these levels.
V-moda offer some great customisation options that you may or may not chose to take advantage of.
Developed by renowned artists, DJs and producers, these fashionable and luxurious over-ear headphones deliver juicy sound
Personalized and engraved award-winning headphones that let you endorse yourself
Durable yet lightweight frame features the revolutionary and signature "V" design
Patented 50mm dual-diaphragm high-definition drivers for vibrant and immersive sound
Plush memory foam ear cushions reduce ambient noise and allow for hours of comfortable wearing
Long (69 in.) kevlar enforced audio cable with 24K gold plugs and 3-button remote and high-fidelity mic for adjusting volume, controlling playback and more
Jet-black exoskeleton case for transporting in style
Choose one of four headphone frame base colors: white pearl, nero, gunmetal, or phantom chrome
Offers four unique designs (crown, skull, immortal angel, or numbered jersey), all of which are paired with a custom message of up to 11 characters
Available at: shop.v-moda.com for customs. Apple stores, Radio Shack, Amazon and other retailers worldwide for standard models.
Price: $199.99
Website: www.v-moda.com/customs