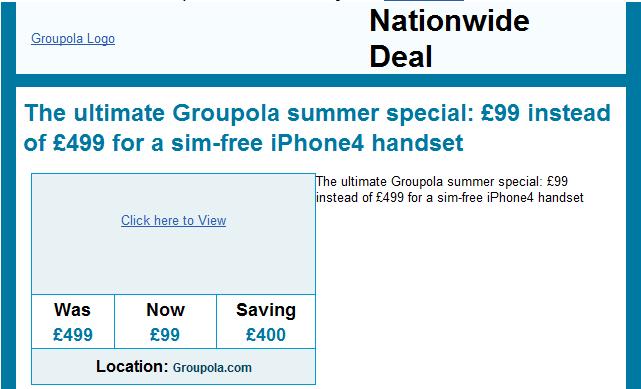 Groupola announced that its newsletter subscribers has  the possibility to get a £99 iPhone 4 today morning without a mention of how many units would be available for these 'lucky' subscribers.
For this too good to be true offer, Groupola's website immediately crashed under the strain of the high-volume web traffic, and blogosphere including tweets and Groupola's own Facebook page has disappointed subscribers saying that this whole deal may have been a con.
Of course Groupola is denying it " We do have winners of the iPhone deal, a number of whom have opted to speak to the media andare doing so currently." said a tweet on its twitter page, it does not mention any details about the  winners who  have 'opted to speak to the media', this move would have shown that it was a genuine offer and not that people directly or indirectly related to Groupola and its employees are shown as winners.
This incident shrieks of a scarm orchestrated for harvesting emails as people  had to pre-register their interest for the iPhone 4 by signing up to Groupola's daily alerts.  Groupola should have held it as a regular daily deal which doesn't require pre-registration for Groupola's marketing emails. Some of the users who have registered at Groupola have started unsubscribing from the website, that may prevent emails from Groupola but If the emails are harvested and sold to marketers, what could anyone do?.