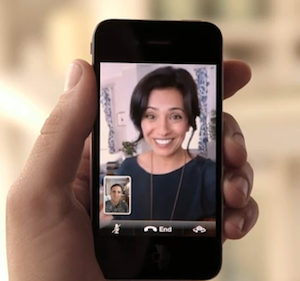 After the initial heart rendering iPhone 4 commercial few months ago, Apple has posted four new TV commercials to entice people to buy the new iPhone 4, heavily promoting FaceTime, a feature typical to the new smartphone which allows device owners to carry out video calls over a Wi-Fi network.
//
The new ads are heavy on melodrama, bordering on cheesy.  Apple's sole intention with the new ads is to show just how many occasions call for video chatting – the birth of your grand-daughter, getting an unusual haircut, wearing braces, or giving your spouse the big news – "you're gonna be a dad!" That, and selling a lot of iPhone 4 units.
"iPhone 4 is the biggest leap since the original iPhone," said Steve Jobs, Apple's CEO, following the phone's introduction at WWDC10. "FaceTime video calling sets a new standard for mobile communication, and our new Retina display is the highest resolution display ever in a phone, with text looking like it does on a fine printed page. We have been dreaming about both of these breakthroughs for decades," Jobs added.
"FaceTime is as mobile as your phone, so you can see your loved ones and friends anywhere there is Wi-Fi," Apple claims. "Using FaceTime is as easy as making a regular voice call, with no set-up required, and you can instantly switch to the rear camera to show others what you are seeing with just a tap."