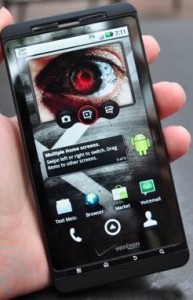 iOS 4 and iPhone 4 (almost) have been released by Apple how can its nemesis in the smartphone market – Android, be away.  Verizon Wireless has unveiled Android based Motorola's Droid X  a day before the iPhone 4 hits stores.
Droid X is the latest smartphone from Verizon Wireless to carry the Droid name, which the carrier has attempted to push as its line of high-end phones running on Android. This makes the device third in the Droid line after HTC's Incredible .
The Droid features a TI OMAP3630 processor running at 1GHz, HDMI out, 8 megapixel camera with dual LED flash and 720p video capture, a 4.3-inch display,  8GB of onboard storage with expansion of up to 32GB,   the ability to run Adobe's Flash software, and a version of Motorola's own customized user interface, called Motoblur. The device is significantly larger than its predecessor, the original Motorola Droid. with an ability for tethering which lets it create a mobile Wi-Fi hotspot for five other devices.It  will sell for $199.99 with a two-year contract when it launches on July 15 in U.S.
We are still waiting to hear about a U.K. release date.