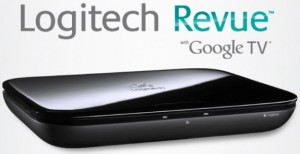 Logitech was among the first of Google TV partners coming out with press release and information  the day Google TV was announced (May 20) at the Google's developers conference,  since then  all eyes were on  the Logitech's CE4100-powered Google TV box. Logitech had revealed that their Google TV box will be called Logitech Revue .According to Logitech, the name "Revue" was chosen as it goes back to the "multi-act theatrical entertainment that combined music, dance and sketches – wildly popular between 1910 and 1930."
Logitech Revue will allow for full Google TV access with an existing TV (as we know), that means online and cable guide searches, streaming media and access to many of the Google Android apps in the Android Market.
Logitech Revue is likely due to ship later this, though what it will cost remains unknown.